0325. Röyksopp
Melody A.M.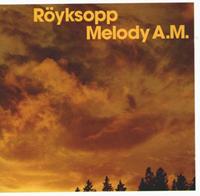 I wonder if these boys from Norway even knew what they were doing. Not only did they manage to sell a million of their debut, but they also managed to infuse some house into their music and make it sound good. And that's pretty unique.

Tracks like Eple, Poor Leno and Remind Me were picked up by everyone from your local DJ to Apple and simply put Melody A.M. is a collection of electronic tracks that really hits home.

Even the shuffle-house-sounding ones.