0044. Sabu
Palo Congo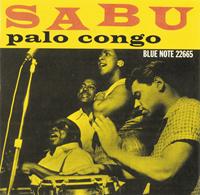 Yet another album of which I have no idea of what they're singing but the music's very compelling. Listed as "Latin Jazz" it's just confusing, cause I honestly can't hear the jazz in it, but instead a hefty dose of salsa and African inluences. For instance the second track, Billumba, which has call and response-segments typical of West African traditional music.

To mention some influential stuff this album seems to have managed, the last track, Tribilin Cantore, has a guitar riff during the first minutes that sounds like it was the blueprint for Vampire Weekend's hit Cape Cod Kwassa Kwassa. But of course it could be a coincidence.

But mostly it's drums, congas, percussion (needs more cowbell?) and the caller - the man whose voice leads It's music for the gathering of masses of people and quite possibly it's music for getting them in a trance to cause some serious magic.