0037. The Jesus And Mary Chain
Psychocandy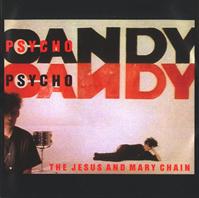 Okay, my everlasting battle with genre-definitions rages on, cause this is what I'd call spot-on alternative and post-punk, but apparently it's in the sub-genre "noise pop" (grinding guitars over an otherwise melodious background seems to be the cause of that label).

After the first listen I feel that the thing I'll remember the most is drummer Bobby Gillespie's playing (it sounds like he's escaped from Phil Spector's wall of sound-recording dungeon). Together with the aforementioned guitargrinds it makes a nice combination.

The singer Jim Reid however, is another story. He walks the fine line between sounding distanced and just plain bored and sometimes he slips a bit, but mostly not.
Fourteen songs in under forty minutes is probably a record for the list so far even though it seems like most tracks are five minutes plus - but in a good way.