0025. Joni Mitchell
Blue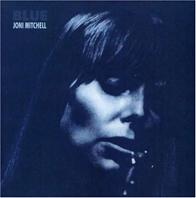 After winning a Grammy in 1970 and being voted "Best female performer" by Melody Maker magazine Joni Mitchell took some time off from touring and concentrated on painting and writing music. It was a good choice as it resulted in Blue, an album full of some of the best folk-pop songs of the time (and of later times too).

She sings very prettily and just when it's almost too much niceness and school quire in the voice she breaks it off with a blue note and shows that it's for real, that the lyrics mean something to her, not just words to be sung. Musically it's mostly just her playing an instrument, either guitar or piano, but on some tracks James Taylors guitar makes her company and on others there's more instrumentation. But no matter how many guests there are on the tracks you never get distracted from Joni's voice.

Blue is a very soothing album even though the lyrics at times are not and I'd recommend it to anyone who ...well, to anyone actually.

"They wouldn't give peace a chance, it was just a dream we had"