0002. Pretenders
Pretenders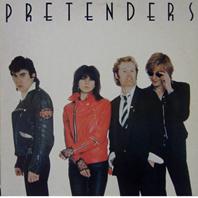 This album starts off a bit punkish with Precious and right away Crissie Hynde's nonchalant lyric-delivery puts its hooks in. The high note continues into the kinda wierd The Phone Call, but sad too say it falls a bit flat in the third song which for the most part feels like it's just lumbering along.

Private Life though is a nice, reggae-scented six and a half minute epic ...and of course there's Brass In Pocket, the song that everyone's heard at one time or another. A bit worn out, but nonetheless a good song.

The main thing I like about this eponymous album is that while it does contain a lot of relationship-lyrics, they never fall into the standard winey "I'm in love with X but X doesn't love me"-category but instead show a lot of integrity and can-do attitude.
It's not one of the GotToGets, but a pretty decent album. Might give it a couple of more chanses.