0373. Digital Underground
Sex Packets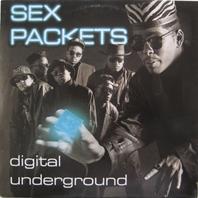 I did not know this was the Digital Underground's debut album. I also didn't know that the CD-version was so rearranged from the LP version and thus I became very confused as I pressed play and the titular Sex Packet-saga didn't appear on the first half of the album. Also, the godawful Gutfest '89 (which, along with Freaks Of The Industry, hints at Shock G's coming career as a porn-producer) was in the mix. So, making a playlist mimicking the one on my brother's LP from backinnaday I started to listen again, just to realize that a lot of the tracks were extended versions ("hey! we got all new space with the CD, what we gon' do?" "reee-mix!") where the only track that gains from it is the last one, Doowutchyalike, as it gets a couple more minutes of the D.U:s whimsy.

The big hit here is of course The Humpty Dance (featuring soon-to-be temporary member 2Pac in the video), with the fictional character Humpty Hump (who enough people thought were real to make it a running gag) being the antithesis of the popular rappers at the time (we're looking at you Vanilla Ice and MC Hammer).
Along with Doowutchyalike and the aforementioned Packet Man-suite it makes the album a very enjoyable example of the burgeoning West Coast sound, with massive samples from Parliament, Sly & The Family Stone and other funkateers.

To think that when Digital Underground's started out, they were aiming at being the sociopolitical alternative is kinda weird and I can't really decide if it was or wasn't a good thing they changed scope after Public Enemy blew up (PE, who incidentally sampled The Humpty Dance's drums into a whole other story) - if they'd put as much energy into politics as they did into porn, there might have been a whole different G-funk era later on.