0086. Nick Cave And The Bad Seeds
Murder Ballads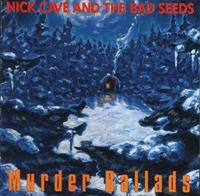 Nick Cave returns to the list with a new band, but with the darkness intact. The album's title delivers the intent in two words: Murder Ballads.
And that's just what it is: eleven songs of death by the hands of others (or as is the case for the majority of the tracks - by the hands of the narrator).

Thanks to Cave's expertise storytelling and The Bad Seeds' beautiful musicianship almost all of the songs seem like they could be at any moment the basis for a film (each). Cave's lyrics got the album a Tipper Sticker in some countries. Probably very well deserved.

This album got a gigantic hit with the Kylie Minogue-duet Where The Wild Roses Grow where Nick kills Kylie (that bastard!) and the rest of the songs aren't much nicer. The only ballad that sort of passes unnoticed is Crow Jane and I can't really define why cause it's a story that shouldn't just go without causing some kind of trauma.

And even though there are other songs with more graphic descriptions of violence, blood and guts and such, the sad tale of Mary Bellows in The Kindness Of Strangers is the one that really gets me - I can't really handle crying, I guess. The hymnal version of Dylan's Death Is Not The End (with Kylie, P.J. Harvey and Shane MacGowan as well as some of the Bad Seeds on vocals) closes this horriffic album on a potentially hopeful note.