0178. The Mars Volta
De-Loused In The Comatorium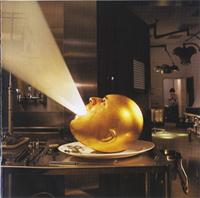 Just to be up front about this: their singer has a damn good voice! Backed up by the rest of the extremely skilled band this is high-speed progressive rock, reminding me slightly of Muse's better songs, but an album's worth of it. And like any prog rock album aiming for credibility this has a storyline, unlike some though, this is a very good concept album that holds together all the way.

The storyline is based on the real-life event of a friend of the band killing himself after waking up from a coma, but that's not the only death associated with this album:
During their tour with the Red Hot Chili Peppers, just prior to the album's release, tragedy struck as the band's sound manipulator / dub-creator J. M. Ward died of a drug overdose (a huge chunk of his contribution can be heard after the six-minute mark on Cicatriz Esp), joining the 27 forever-club. Subsequently the album was dedicated to his memory.

With that back-story, and produced by Rick Rubin I guess this was bound to become a hit, and also, I don't think it was a drawback to have Flea and John Frusciante come in as studio musicians. But I can't help but be amazed by the silliness of the label "math rock" is that someone added to this on Discogs?