0450. Stan Getz / Charlie Byrd
Jazz Samba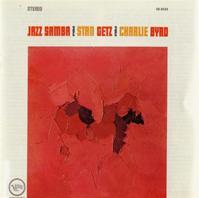 It's jazz and it's samba fused to bossa nova and I'm expecting the girl from Ipanema to walk on by at any moment.
Of couse she doesn't, but it's the mood of the album (probably due to that song's written the same year by Jobim who wrote two of the tracks performed here, and later on also recorded by Getz together with the Gilberto-couple in the version that would become a world-wide hit).

While Getz' sax lies like a smooth breeze over the sunny beach of the music I must say I'm more enthralled by Byrd's guitar-picking. It's infectious.
Being one of the first bossa nova albums to hit it (relatively) big in America it of course is a landmark by Stan and Charlie.