0779. -
Apocalypse Dudes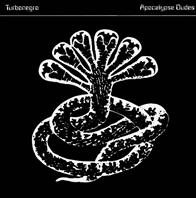 I don't even…
But as I'll have to, I'll say it like this:
Remember when I talked about priviligied fratboys and their knack for coming up with interesting stuff just cause they have the social capital to do so?

Well, this is the nastier side of the coin, and this is actually worse than the fuckin' Gun Club, who dedicated a couple of songs of their album to being racist, cause Hans Erik Dyvik Husby, Knut Schreiner, Rune Grønn, Pål Bottger Kjærnes, Thomas Seltzer and Christer Engen - a bunch of Norwegian boys, decided to use a racial slur as a name, and being faux gay for their image and are celebrated like the second coming.

I half planned to curse them out, but what's the point. Congrats on being racist cause it's "provocative". Not even 1001 Albums You Must Hear writes the band's name in the review, and it's for an album they thing you ought to hear. I say fucking skip it.