0026. Muddy Waters
Muddy Waters At Newport 1960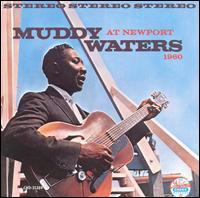 This is (as if it wasn't obvious by the title) Muddy Waters in a recording from his gig at the Newport Jazz festival and (what's not as apparent from the title) he's got his mojo working heavy duty on my ears.

The dad of the Chicago blues shows where it's at through all the tracks. I Got My Brand On You is mostly composed of slow, repetative phrases in both lyrics and music while I've Got My Mojo Working (during which the crowd goes wild by the way) makes it clear where Rock'n'Roll got it's groove from and (I'm Your) Hoochie Coochie Man brings the braggadocio that's been the 5th pillar of hip hop from the get go. Although none of these songs were originally penned by Muddy waters (only two of the tracks in the set are and besides: Hoochie Coochie Man was written for him) it doesn't make any difference: he makes them his - at least for the moment - and I'm lovin' it!

The album closes with Goodbye Newport Blues - a track which probably epitomises what people think of as blues.

A live album from one of the most influential blues musicians just can't go wrong.