0453. Elis Regina
Vento de Maio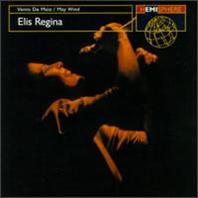 I got to wonder if 1001 Albums You Must Hear Before You Die has been making albums up, cause neither Discogs, Allmusic nor Wikipedia (that's right, not even Portugese Wikipedia) got this one in their databases.
Doesn't seem like Elis even released an album in 1978. What does exist, though, is a post-humous compilation by this name, with the same cover, released twenty years later. so where does that leave 1001 Albums You..?
Pretty deep in the pants on fire-category if you ask me.

If it was a studio album I'd say that it's got a wide range of musical styles, giving the appearence of a compilation album, and as a compilation album I'd have to say that it seems a little too eager to get it all in there as some of the songs sound very outdated (even for the nineties' crowd). But Elis' got a very good voice and (although I still can't speak Portugese) I appreciate the phrasing.

An okay album, even if it's probably not a "real" one.