0763. Devo
Q: Are We Not Men? A: We Are Devo!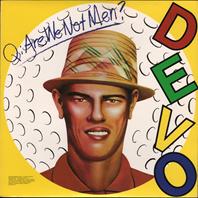 On its release described by some as completely soulless, this almost automaton-sounding debut by the artsy Devo actually has got a lot of life in it.

Produced by Brian Eno and David Bowie, I have to say that this is, apart from the cover of Stones' (I Can't Get No) Satisfaction, a pretty good job done.

Also, there's this thing with artistic bands and the urge to take it too far.
In the case of Devo, they often played the "Are we not men? we are Devo" part of Jocko Homo for up to thirty minutes (or until someone forced them to quit it). And then there's Mongoloid …a song I'm not sure how to explain to the casual reader.

Devo is what happens when white college guys get together and decide to make their in-joke into something (just like The Residents).
And sometimes it's a darn good way to start the New Year.