0368. Brian Eno – David Byrne
My Life In The Bush Of Ghosts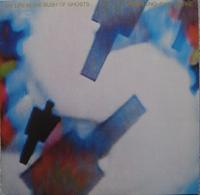 Brian Eno teams up with David Byrne (back then of Talking Heads fame) to create a World Music album that established clichés. I don't really know what to say about it, cause on one hand they weren't clichés at the time, but on the other i have a hard time hearing them as if for the first time.

The fun things first: the vocals are all sampled and there's a lot of found sound in the recording process (a.k.a. pots 'n' pans in the drum-set) and as this is the re-release a couple of the songs are in extended versions.
The sad part of it is that since I didn't get hold of a copy of the original release, but only the re-release, the track Qu'Ran (featuring recitals from the book over music) was omitted due to old complaints of blasphemy dating back to the eighties (listening to it on youtube I got to say it's a pretty tame track, but still).

All in all it's a competent album, but not an exciting one, paving the way for projects like Lucky People Center.