0643. Sara Vaughan And Her Trio
At Mister Kelly's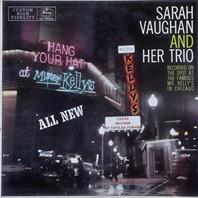 Didn't realize this until about halfway through, but this style of jazz is a welcome break from all the guitar based rock and pop. Sure, it might not always be as engaging as the other stuff, but this live recording is real nice - in both sound and spirit.

Sarah's in a great mood and her trio seems to be too and the nine renditions of other people's songs and standards are gracefullly delivered to my ears. One that stands out is Just A Gigolo, a version more lamenting the carelessness of the gig's than the display of carefree nihilism the boys use to sing it like.

For a while I can't help but wonder what happens about four minutes into Willow Weep For Me, as there's athump and both the audience starts to laugh while Vaughan changes lyrics and sings she messed up the song. She goes off track again in How High The Moon, singing she's forgotten the words to the song, breaking out into a scat instead.

On the re-listen I catch the presenter saying Vaughn is using lyric sheets for the session as it's recorded, and then I realize it's of course the lyric stand that collapses in Willow..., scattering the lyric sheets all over the place and maybe How High... quickly disappeared into someones private collection.