0429. The Young Gods
l'Eau Rouge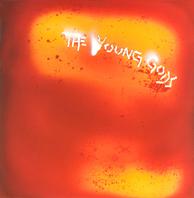 The stage is set, the elephants are nearing their entrance, the ringmaster clears his throat and the music starts to play. La Fille De La Mort, first track on The Young Gods' album l'Eau Rouge is a circus-tune with a dark undertone that almost stays hidden until about halfway through the eight minutes as the animals goes belly up while the clowns start removing their faces, revealing fangs (I guess it's apt as the track's title translates along the lines of "the girl's death" or "the girl of death" - once again: I don't speak the language).

That setting returns in Charlotte for equal (or even more) greatness, but as for the rest of the album I really can't remember so much more of it even after the third listening. But as this is one of the earlier post industrial albums, and one to dare experiment a bit more, it of course deserves at least one spin on the turntables.