0853. Goldfrapp
Felt Mountain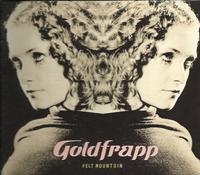 Bringing to mind Shirley Bassey, with a touch of theme music composer extraordinaire John Barry, retro is just the beginning of what to call this.

Singer and band-namer Alison Goldfrapp sings with a suave touch and together with Will Gregory they've produced an album that feels like firmly set as the soundtrack to an updated Sixties' version of the Bond movies.

And it's just now that I realize that Bassey and Barry worked together for the '71 Bond flick Diamonds Are Forever, so: well, nice work Goldfrapp, you drove me straight to the target.