0116. The Flaming Lips
The Soft Bulletin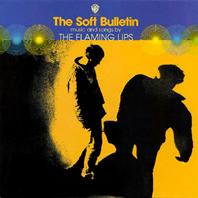 Wayne Coyne and parts of the music sounds as if recorded on a beaten up cassette deck (most notably in the opening Race For The Prize). There's a certain insecure sway to it that's been an obvious inspiration to acts like The Poyphonic Spree.

As I was listening to the UK release the song Slow Motion was replaced by The Spidebite Song and it's as with the other tracks on this album: very charming.
The Soft Bulletin is well-orchestrated pop music with quirky lyrics and high artistic integrity. And I think that pretty much sums it up.