0472. Common
Like Water For Chocolate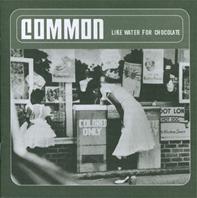 The powerful image from segregation days on the cover and the general aim of the album is somewhat tarnished and neutralized by the supposedly conscious Common having the same type of tourettes that N.W.A. had. The only place his racial slurs it feels appropriate is in A Film Called (Pimp), where he assumes the role of pimp trying to add another prostitute to his stable, but elsewhere? Nope. MC Lyte's pretty good in that one too.

This, coupled with Commons rather boring flow (or maybe lack of flow, I haven't decided yet even though me and his "flow" go back to when he was a guest on De La Soul's joints).
The only time I can feel it is in A Song For Assata, where Common asks if he'd had the strength to live through what Black Panther / human rights activist Assata Shakur have.
Judging by this album, I'd say no. It's an hour and twenty minutes of Common trying to sound hard, but sounding just like that: he's trying.

Nice that he's giving tribute to Fela Kuti, though.