0422. Ice Cube
AmeriKKKa's Most Wanted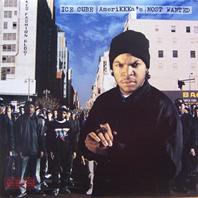 After splitting with the N.W.A., Ice Cube took some of the beats and a whole lot of the lyrics planned for their next album, called up Public Enemy's production team (The Bomb Squad) and solo-debuted with an album that hit it big.

Of course, as it's a 'Cube album it's got the gangsta flavour (also, it's got Flavor Flav on a gangsta-track), but also some socio-politics and (unfortunately) the misogyny. As a precursor to the G-funk era, it's heavily gangsta with a heavy dose of funk and P-funk samples - though in a far more aggressive manner than the laid back style former bandmate Dr. Dre'd deliver a little bit later.

Frankly, I can't really enjoy this album even though the beats are damn good. In part due to some of the lyrical content, but mostly due to some of the concepts he's propagating and the fact that his flow and delivery isn't good enough to get away with it. He'd need at least a couple of his former colleagues on this to do that.