0257. The Jam
All Mod Cons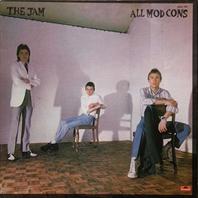 It took The Jam five years after their formation to release their debut album. On the sixth year this, their third (and also their comeback after number two dropped like a, well, number two), was released and contains the blueprint semi-patented mod-punk which made them great.

Even though they presented themselves as conservative and brandishing the Union Jack (at one time even saying they'd vote for the centre-right party), there's an obvious call for social equality in the lyrics (even though it might be tinged with nostalgia about a Britain that never was). Later on they blamed their PR-managers for creating an image to stand out from the other punks.
True or false? I don't know, but at least there's rage against the right-wing eejits in Down In The Tube Station At Midnight. The lyrics at times seem to be beyond their years, weaving stories that sweeps me up (with the notable exception of English Rose). [edit: This is the album where Weller became a lyricist with a pathos, a road he's kept walking over into The Style Council and beyond.]

As for the sound I've got to say that even though Weller is a skilled guitarist, it's the basslines laid down by Bruce Foxton that carries the album.
Just listen to To Be Someone (Didn't We Have A Nice Time) and say you don't feel it.