0161. Parliament
Mothership Connection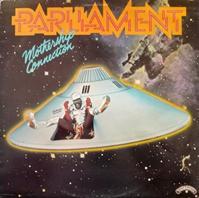 When the random page generator delivered me this one the tracklist started playing in my mind. And when I subsequently listened to the actual album I could match it almost perfectly to the tunes in my head.

I listened to it in the car, boogied through the grocery store and even changed diapers on the kid with the P-funk in my ears. It's a spaced out, poly-rhythmic, polyphonic revolution you can do the bump to. It's seven of the deepest eight-minute grooves you can find, filled with chocolaty goodness and metaphorical musings.

Cause this is pure funk, uncut funk, the Bomb, or, in other words: this is a GotToGet (and also the one to make me realise that about ten per cent of the albums this far have been good enough to be GotToGets - not bad at all).
Don't miss the Mothership Connection!