0140. Limp Bizkit
Chocolate Starfish And The Hot Dog Flavored Water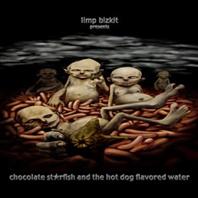 The Intro claims that "this is not a test, this is reality" and the reality's apparently that everybody's mean to Fred Durst and his pubescent voice. The first four songs all deal with someone or something that made Fred cry (and really, is Hot Dog seriously a diss-track to Nine Inch Nails? Silly little man). This then takes a pause for Rollin' (Air Raid Vehicle) and returns in Livin' It Up where he's just a crazy muthafucka livin' it up in the fast lane despite his detractors.

And I know it's supposed to be nu- slash rap-metal but that doesn't mean you got to write lyrics that sounds like a hillbilly-parody of hiphop (curse all you want, but don't just repeat the same tired old "fuck" you fucking fuck of a mother fu... I guess you catch my drift). Something that becomes painfully obvious when rappers originating from hip hop are featured on the remix of Rollin'.

This is almost a more uncomfortable experience than Deee-Lite - luckily I didn't hear a house-clap or -piano.