0767. Jerry Lee Lewis
Live At The Star Club, Hamburg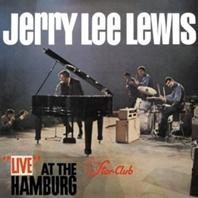 Goodness gracious! It's Jerry Lee Lewis!
Starting out as a session musician for Sun Records (okay, I've cut some of his history here, but there's a limited time for me to write) and bringing the piano into style for rockabilly, Lewis soon made a name for himself as a solo act.

This live recording from a decade after his rise to fame sees him still holding the fire burning, even after carreer-wrecking scandals and a child's death.

With only one track of his own and twelve versions of other people's songs, this is perhaps the list's most energetic cover artist, kicking Money (That's What I Want) into a new gear and just alltogether enflames the stereo.

Of course his signature song, Great Balls Of Fire, is here, and it's full on piano bashing fun, with backing band The Nashville Teens barely keeping up.