0514. The Incredible Jimmy Smith
Back At The Chicken Shack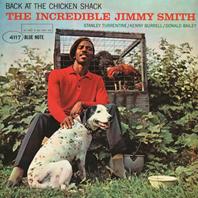 Another cover image that, along with the title, gave me the wrong impression of what would be heard within, Jimmy Smith's Back At The Chicken Shack isn't a rock'n'roll album at all.

This hard bop jazz plate consists of four tracks where Hammond-player Smith and company (in this case guitarist Kenny Burrell, saxophonist Stanley Turrentine and drummer Donald Bailey) lay down spirited and airy grooves.

This is notable not only for being a very good album, but also for being one of the albums where Jimmy established the Hammond as a real instrument for the music scene and not just for the hockey rinks.