0762. Faces
A Nod Is As Good As A Wink... To A Blind Horse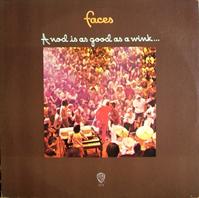 Faces was formed after the small went out of the Small Faces (a.k.a. personnel changes with the taller Rod Stewart taking over some singing duties and Ronnie Wood taking over some guitar) and this is their third album in just two years.

Problem is, Ronnie Lane has got a much better voice, just compare You're So Rude where Lane sings with the Stewart fronted cover of Chuck Berry's Memphis, Tennessee (which on the album's listed just as Memphis) and you'll hear it clear as day.

All in all it's an uninteresting rock album and I guess it's listed just because it's their biggest seller and contains their biggest hit: Stay With Me - a track I find pretty tame too.