0426. The Isley Brothers
3 + 3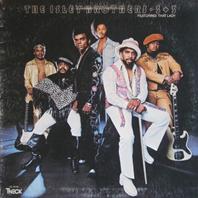 Going from a gospel quartet to a doo-wop trio due to brother Vernon's tragic death (as he got struck by a car at age thirteen) to a soulful funk sextet took the brothers almost twenty years and the addition of an in-law. With 3 + 3 (the name chosen to mark the transition from trio to band) they created an album that would be one of the focal points for later fans of funk rock.

Beginning with their reworking of their decade old song That Lady with a lead guitar that weaves its way through the whole song, reminding me of Parliament's Maggot Brain, it's an ear-opener.
Though the following tracks haven't all got the same punch to 'em, it's still a nice big bag of funk (with some soul/r'n'b songs) and their version of Seals & Crofts' Summer Breeze is the way a cover should be done: by adding to the original.
A fine album with a good vibe.