0973. The Magnetic Fields
69 Love Songs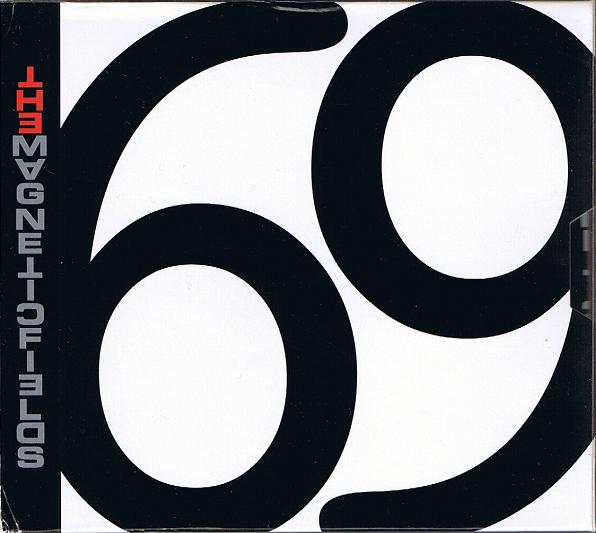 One slight problem with having a tight deadline for listening and writing this list is when albums like this turns up, at nearly three hours long it's a literal work day's worth of time to listen to it at least two times and then write something (nearly) comprehensible about it.

Anyway. Just like the Derek & The Dominos album, this three-CD release (or limited edition six disc ten inch vinyl re-release) has an honest declaration of content in the title - yes, this is sixty-nine love songs.

And as it's indie pop it's also intentionally low budget, with "quirky" instruments (like the ukelin and Marxophone) and referencing different genres.

Unfortunately the album suffers from this, often drowning out the fairly good tracks in a barrage of tracks that seem more as in-jokes than performed for listening (see Punk Love for one). And frontman Stephin Merrit's tick about keeping it ironically distanced and showing his contempt for other genres doesn't help (among other asinine stuff throwing in jokes about Minstrel shows in the already ironically misogynistic A Pretty Girl Is Like... and referencing "strange fruit" in Love Is Like Jazz).

And I wish Shirley Simms had more time on the mic, cause whenever she turns up there's a bump up in the overall quality and feel of Merrits' songs - she's just got a whole other approach to it than sounding like a pompous prick (Stephin's much like The Divine Comedy in more than one aspect).

Two of the few tracks where Stephin sounds just right for the tracks are Fido, Your Leash Is Too Long and Long-Forgotten Fairytale, but that's mainly cause the music's a perfect fit for him in those few tracks. Shirley on the other hand works in synch with the music whenever she's on, whether it's the melancholic alt. country of No One Will Ever Love You or the ukelin-based Kiss Me Like You Mean It. It's also noticeable that the project took its toll as the last half of disc three is more novelty and comedy tracks than in album general.

Still can't get rid of the feeling that this triplet would have been a whole lot of more interesting if Merrit just had shut up and let everyone else sing instead of him.

He's a skilled musician who can imitate most genres, and if he'd been more jolly about it he could have been the next Flight Of The Conchords, but now it just seems he hates music.