0028. Echo And The Bunnymen
Crocodiles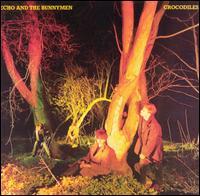 Another "new wave/post-punk"-album and well, those labels makes even less sense to me after listening to Echo And The Bunnymen. Not that there isn't a big red "alternative" sign flashing, but that it doesn't really give me the same vibe as the last new wave album I listened to (except for, you know, one of the overcoats on the Crocodiles cover picture was stolen from the singer of The Fall).

This album's produced by, amongst others, Bill Drummond (of KLF fame) and as with most stuff he's laid his hand on it's interesting, but better yet is that Crocodiles is a good, bordering on great, album.
As for Echo And The Bunnymen they make a solid job with the songs (and not to be the one who throws puns around like there's no tomorrow but I get where they got the "echo" part of the name from: the tracks are littered with delay and reverb). Sadly I don't know just which tracks to recommend, but that's really not a bad thing since it just means they're all good.

It's actually pretty cool thinking that this was their first album since it sounds like a band that's been together since they were kids, not just a year or two.
These britons knew what they were doing.