0090. Arrested Development
3 Years, 5 Months and 2 Days in the Life of...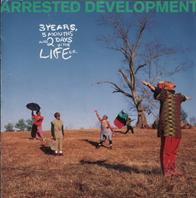 Arrested Development were like De La Soul's "new age"-cousin from the sticks, talking about spirituality and religion where De La delivered lyrics about life in the projects. And while that might sound too much hippie for most, this is on average very accessible hip hop due to it's melodic qualities and "down to Earth"-attitude.
There's not a single driveby, bootyclap or positive aspects of dope dealing here, and this probably is the main musical history contribution: in a time when gangsta rap had stormed the charts Arrested Development showed up and beat the crap out of 'em with samples from Sly And The Family Stone and a near-dozen groupmembers (of which not all were involved in the performing or writing of music: some were more like Happy Mondays' Bez - there for the good vibe).

Best on the album is of course Tennessee - their , closely followed by the hobo-idealizing Mr. Wendal and also Dawn Of The Dreads, with it's funky bassline. The version of People Everyday that's on this album (well, at least the version I got) isn't the same that was released as a video single and thus isn't as enticing, but still works.
3 Years... is a good album to take out for a spin once in a while.