0583. DJ Shadow
Endtroducing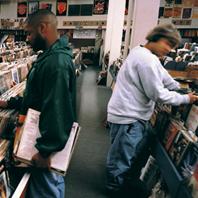 It's been said that Licenced To Ill's the last great sample-based album, as the powers that be took notice and clamped down on sampling a few years later (beginning with Biz Markie's I Need A Haircut, which I hope'll get on the list soon). But that's a truth with a bit of a modification. Cause Endtroducing (coincidentally released a decade after Licensed...) is almost all samples, almost all instrumental, and to boot it's all good.

The only non-sampled parts are vocals from rappers Gift of Gab and Lyrics Born (appearing on a total of three tracks), both also part of the Quannum Projects collective DJ Shadow's in (and a crew that probably won't show up any more on the list even though they ought to).

As an example of the range of music Shadow's been going through to create this, I'll pick Pugh Rogefeldt, Organized Konfusion and The Daly-Wilson Big Band, showing that even long samples borrowing a couple of measures doesn't have to be instantly recognizeable to create great music.