0245. NEU!
NEU! '75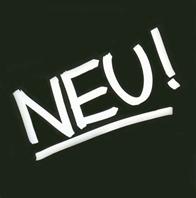 From a band that were at one point two thirds of Kraftwerk comes an album that sounds like neither Kraftwerk nor itself.
Even though this is labeled kraut this actually has more in common with Music For Airports than Tago Mago, probably in part due to NEU! having a larger influence on Brian Eno's later career than on their contemporaries on the krautrock scene.

Side A is the domain of Michael Rother and his proto-ambient concoctions (even though Isi is too uptempo to be in the ambient-zone) while the B-side belongs to Klaus Dinger and his proto-punk (and while most seem to herald Hero as the more punk of the three B-side tracks I'd say it's After Eight as it's both shorter and more intense)

Maybe not a "must hear", but in the category of "interesting albums".