0634. Pink Floyd
The Piper At The Gates Of Dawn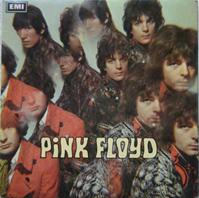 Pink Floyd's debut album simply reeks of psychedelia (noone was fooled when their label tried to launch them to the mainstream audience as art-rock instead of psych).
It's pretty erratic and full of things that seems like spur of the moment stuff someone just thought would be cool.

And you can't compare this to the Wall era Pink Floyd, as it's two distinctly different bands. Going from being led by an art school kid with schizophrenia developing to an architecture grad with severe father issues makes its mark.

What you can compare it to, though, is of course Syd's solo album. But as it's not a fair comparison either, let's just say that this is immeasureably more cohesive than The Madcap Laughs.

A couple of space songs, a couple dealing with mysticism and a couple that just are, well, wierd, this is more of an album for true fans - the ones who want to know how the band sounded when they started out.