0595. Echo And The Bunnymen
Ocean Rain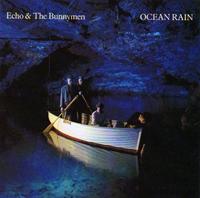 So, their third album on the list, and also their third sound. Not as much reverb as on Crocodiles and not as bugging out as on Porcupines (even though Ian's voice at times behaves strangely).
Simply put this is the second-best of their albums that's shown up this far.

This time they've lushed up their sound (perhaps as a response to critics feeling the way I did about Porcupine) and the result's good. I'm almost mistaking them for Midnight Oil in Seven Seas (and, to a slightly lesser extent, in My Kingdom), so I got tho say, this is one of the more varied bands on here.

The second album in a couple of weeks to be recorded with an ensemble, this beats A Short Album About Love by a wide margin.