0331. Phil Spector
A Christmas Gift For You From Phillies Records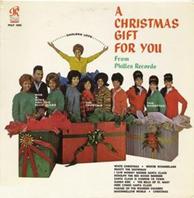 I'm taking my work here seriously, that's why I've listened to (among others) Frosty The Snowman at least five times. Yes, it's the end of April and we're doing Christmas music here at 1000 Albums + Some More. But as they're Christmas songs backed with Spector's wall of sound it's got that sixties' pop-sound that we all love and cherish.

The Ronettes, The Chrystals, Bob B. Soxx And The Blue Jeans and Darlene Love deliver eleven holiday themed pop covers plus one original (Christmas (Baby Please Come Home)) and then join forces with Phil to close the album with Silent Night (after a little speech by Spector).

The album had a pretty bad timing, though, as it was originally released the same day that JFK got shot [fact check: it might have been the day before]. But it slowly gained enough traction over the years to be re-released under the name A Christmas Gift For You from Phil Spector almost ten years later (which, by the way, is the title that the 1001 Albums-book uses - once again fumbling with titles and dates of an album with black performers).

A sub-plot of the album is the demise of the group Bob B. Soxx And The Blue Jeans and the rise of Darlene Love (one of the Jeans) as a solo artist as the formers last recordings and the latters first are on this album, as well as Love being replaced by Gloria Jones from The Blossoms (who aren't featured on the album) in the Blue Jean part of the cover photo.