0787. Bad Brains
I Against I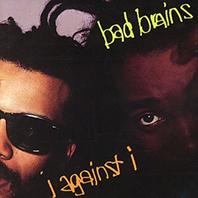 You know, for a hardcore act they sure sound like a freight train crashed into a Parliament show. And with a singer whose voice is somewhere between Joey Ramone and Glenn Danzig it gets pretty interesting (a hardcore singer that doesn't screech? unheard of!).

After forming as a jazz fusion band, Bad Brains quickly turned to the punk scene in 1977, paving the way for hardcore punk. Soon after that, they became rastas.

How this influenced their already complex sound is easy to hear: reggae rhythms and melodies crammed into the onslaught of funk, metal and punk makes this so full of layers it's almost ridiculous. And after a while it dawns on me: they're sounding like a mix of Faith No More and Megadeth [fact check: well, to add to my dubiou reasoning, singer H.R. once left the band and got replaced by ex-Faith No More singer Chuck Mosely].

Very influential and very cool.