0274. Lynyrd Skynyrd
(Pronounced 'Lĕh-'nérd 'Skin-'nérd)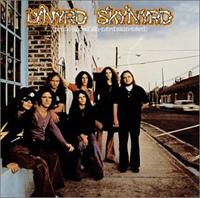 The original redneck rockers ("Freebird!" - Shut up, you) in Lynyrd Skynyrd (named after their high school phys-ed teacher, Leonard Skinner) made a big splash with their debut, semi-eponymous, album. With their southern style guitar sound and big sound (a silly phrase, I know) their blues / country / rock combo is well worth to listen to.
("Freebird!!" - No!)
Thematically they're all over the place. Going from being the tough as nails guy (Mississippi Kid) to the scared guy (Gimme Three Steps), the ladies' man (I Ain't The One), to the abandoned guy (Tuesday's Gone) and even showing they know their fanbase so well that they got to really spell out that it's a bad idea to drink poison whiskey (Poison Whiskey).
("FREEBIRD!" Well okay, if you will just shut up then...)
The last track on the album is a song which became so popular that they decided to end all further albums with it - as well as all their live shows. Free Bird is as epic as infamous as it both is a damn good song that in their live sets easily strayed over the fifteen minute mark and the song that turned into the meme of the concert goers of the U.S. There's reportedly hardly a rock gig that doesn't contain one idiot yelling "Freebird!" as part of the joke that went too far.
But still: a good song.