0615. The Smiths
Meat Is Murder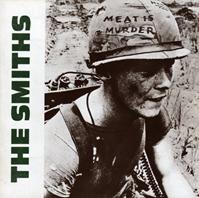 I remember thinking the charachteristic twang-intro from some promo MTV had ougth to belong to a kickass song, but the first time I heard How Soon Is Now? (back in the mid-nineties) it was the let-down of the year (apparently also only added to the re-releases of the album).

And the thing is, it probably wouldn't be so bad if it wasn't for the singer. Cause the band plays quite acceptable indie pop/rock (also bringing in elements from other genres - just check out the disco bass line in Barbarism Begins At Home, making it sound very Duran Duran).

I may have written this before, but good grief what a whiner Morrissey is. Even the few times when he doesn't raid his diaries and instead tries to say something about society it's mostly as self-centered pining (possibly with the inclusion that others too has got it as hard as he does).

The difference between singer and band is easily illustrated by that he penned the lyrict to the title track and forbidding the others from even being seen eating meat.