0554. The Blue Nile
A Walk Across The Rooftops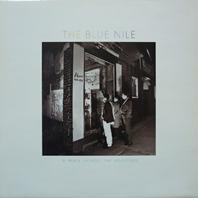 Okay, so I've previouslu bashed the genre name post-punk, but "adult alternative" (which is what this is listed as on Wikipedia) has got to take the cake - it sounds like it describes the soundtrack to a blue movie.

But as it's the debut album by The Blue Nile, a Scottish trio with yearning in their hearts and synthesizers in hand. It's also the debut that almost wasn't, as the label that signed them (yes, this was in the day of age when record labels pretty much decided who got to release an album) got bought up and The Blue Nile sort of got lost in the process.

But they got their second chance and released this - an album of very clear sounding recordings [fact check: the second chance was given by a Hi-Fi store that, as part of the deal, saw to it that none of the sounds used fuzzed into another] dealing with the huge smaller things in life. Working a lot with setting the mood, be it by slow piano or half a minute of silence this is more of a band's band than for the average pop fan, and I guess having Peter Gabriel as a fan is worth pretty much.