0060. Sinéad O'Connor
I Do Not Want What I Haven't Got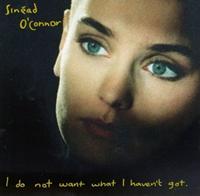 Things I knew: Outspoken, Irish, Pope-basher and ordained priest.
Things I learned: seven months pregnant during the recording of the previous (first) album, bipolar (could probably have guessed, though), helped Shane MacGowan kick his heroin habit (huge win!).

It's a cool album, with songs in a lot of different styles (from the break-beat infused version of Gaelic poem I Am Stretched On Your Grave there's a total 180 into the orchestrated Three Babies) it could have been easy for Sinéad to lose herself in the mix, but she manages to keep the whole thing in line by just being effin' great. Her voice has a good range and she can go from a whisper to a scream of rage in a heartbeat.

A couple of things though: The Emperor's New Clothes is a bit too eighties-produced for my taste (somethingg about the guitars) and the closing title-track actually lost attention after a while and that's never a good sign.

But then of course there's the monumental hit, the cover of Prince's Nothing Compares 2 U, a success which she's never managed to repeat (but then again: there's not that many who's managed something like that even once). Along with Black Boys On Mopeds, You Cause as Much Sorrow and, well, the rest of the tracks this album's well deserving of a placing on the must hear-list.

Heavily political and heavily headstrong (among a lot of other things refusing to accept the Grammy she'd won as well as the three other nominations for this album) O'Connor's a force to be reckoned with.