0229. Love
Da Capo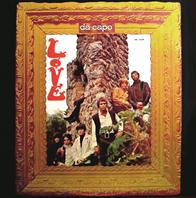 The legendary Love's second album was, quite logically, called Da Capo and it's got one hit - Seven & Seven Is. Tracks like Orange Skies and ¡Que Vida! are psychedelic pop, but pretty standard at that and nothing that really sticks out of the flood of similar songs from the same year.

But then there's Seven & Seven Is.
It's near-perfect proto-punk garage rock in the vein that bands like The Hives has tapped (with varying success) ever since. Pounding in at just over two minutes it delivers more energy than the five other songs on the A-side combined.

The B-side is notable due to having one of the first wholeside songs (Dylan and Zappa beat them by mere months) as well as it being (in part) copied by The Rolling Stones (also on an album released before this one, which caused Love to be blamed for copying).
Revelation is a near-nineteen minute jam which, in all honesty, feels a bit tame, but after watching the live video of Seven & Seven Is I can imagine Revelation being a full on frenzy-creating showkiller.