0758. Quicksilver Messenger Service
Happy Trails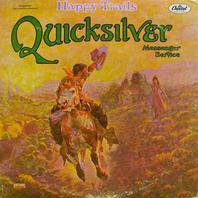 Hey, whaddayaknow: another album recorded at the Fillmore East (at least in part - some of it was recorded at Fillmore West too). This type of hippie jam, must have made this a band that the MC5 hated, and I'm cool with that. But it's good stuff.

Firstly, this is an impressive display of how to make a 2:31 song into a whole LP side. Who Do You Love, originally by Bo Diddley, is stretched and bent out of shape, picked to pieces and improvised back together again during the first twenty-five minutes of the album.

And while the Who Do You Love suite is great work, I'm a bit more inclined to favour the B sides' instrumental Maiden Of The Cancer Moon with it's heavier metal sound. There's just one thing: I can't figure out which song that makes a slight appearence around 3:12 in Cavalry and it's annoying the hell out of me.

Also, the cover of the Roy Roger's theme Happy Trails sounds so bloody off I don't know where to go from here.