0018. Bob Dylan
Blood On The Tracks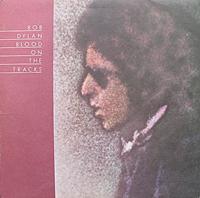 Guitar? Check. Harmonica? Check. Bob? Check, check and triple-check!
Ten years into his recording-carreer Blood On The Tracks was Bobs fifteenth studio album and while not all of them are top notch, this one is.

From the starting Tangeled Up In Blues to the ending Buckets Of Rain it's the Dylan you all love and adore. With inspired lyrics and simple but enthralling musical backgrounds I just can't get enough.
Lily, Rosemary And The Jack Of Hearts is an instant favourite and shows off Bob's best style: long storytelling songs. Clocking in at 8 minutes 50 seconds it's a tale of love and betrayal (and bankrobbery, don't forget the bankrobbery!) and with a seriously complex narrative it captures the literature-geek in me.

All in all this is an album that makes me glad I gave it the chance since I've always had an ambivalence regarding Bob Dylan and it's all due to his voice. At times he sounds like he's just grunting, mumbling or weezing (or all of the above) while other times he sounds just like he does on this album: energetic, coarse and simply great!