0096. Frank Sinatra
In The Wee Small Hours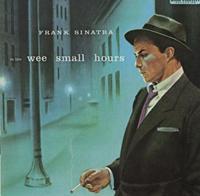 This is an album with all the ingredients for making a melancholy evening into a bad habit. It's got strings, it's got tender feelings and it's oh, so sad, with the poor boy yearning for the girl of his dreams. In this case Frank probably had his recent ex-wife in mind.

In The Wee Small Hours were Sinatra's first LP (up until then it'd been 10"-records) and also his first "true" concept album, where all songs followed the same theme. For today's pop-listeing audience, however, it might be hard to delve into their (great-?) great-grandparent's music, but it's worth a listen. I won't pretend like this is an album that I'll listen to on a regular basis, but I can say that it's an album that when I hear it I'll go "wow, too long since last".

Ol' Blue Eyes certainly had a magnificent voice.