0084. The Afghan Whigs
Gentlemen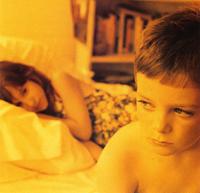 The Afghan Whigs were a fairly likeable 90's indieband (well, called alternative, but I guess you can figure out where to put that label if you've been reading some of the earlier reviews) and Gentlemen was their fourth studio album on their third label (going from Ultrasuede to Sub Pop to Elektra Records).

And well, they manage to deliver an acceptable album in Gentlemen, in spite of the singer's inability to actually sing (for the most part at least). There's some kind of amateurish charm to it when they, even though they've at the time played together for a bunch of years, still manage to sound like a bunch of teenagers who've just come together to make what (they think) will be the world's greatest album.

That feeling also echoes into the lyrics which are ranging from the naïve to the downright stupid (check out the weakest track When We Parted for an example). But still there are bits that remedy some of it, like the sixties-flavoured I Keep Coming Back (even though the singing's still forced) or Fountain And Fairfax with it's oriental flavour on the guitar. Best, however, is Brother Woodrow / Closing Prayer, which sees them joining forces on a purely instrumental track to end the album on a better note.