0225. Van Halen
Van Halen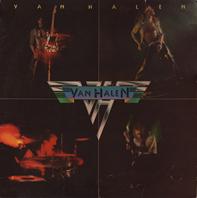 Probably one of the strongest debut A-sides in the hard rock genre, Van Halen's first album spawned a whole lot of classic tracks (and the B-side isn't so bad either).
Kicking off with Running With The Devil and it's rendition of living for the moment and hedonism sets the pace for the rest of the album: girls, fun and rocking out!

It's followed by Eruption - the masturbatory guitar-excess where Eddie shows off his skills in handling the axe, his musical knowledge, as well as setting the trend of quoting classical music in solos (also, this is the moment whereupon thousands upon thousands of pubescent boys decided to pick up an electric guitar and be a hero). It's impressive but as an album-track it's just a filler.

Better instead the fantastic riffage in Ain't Talkin' Bout Love, which lyrically is using the same techniques as Neil Strauss popularised in his book The Game (I actually made an danceable version of this track back in '93 or '95, with about the same feel as Apollo 440's Ain't Talkin' About Dub, but long before they released theirs - dämnit, it should have been me).

The Halen-gang also threw in two covers, The Kinks' You Really Got Me and John Brim's Ice Cream Man, which almost in a painful way show their limitations. Where the rock of You Really Got Me really gets a level up in the Van Halen version, the blues of Ice Cream Man just sounds like a schoolboy trying to sound like a man.
But still, the majority of the album is a tour de force of what they did the best: hard rock 'n' party roll.