0610. Finley Quaye
Maverick A Strike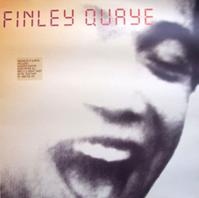 The airy arrangements and careless intonation belie the mostly sad lyrical content of this album. Cause even when he's singing about how wonderfully in love he is, it's with a quiet "pleasedon'tleave​pleasedon'tleave​pleasedon'tleave​pleasedon'tleave​pleasedon'tleave" peering through the curtains.

It might be a bit of working through the trauma of not having his dad around (referenced in Ride On And Turn The People On) that's caused it, but who am I to speculate? (except, you know, the guy trying to analyze this album)

So: the sounds are airy, the songs are (bitter-)sweet, but what the hell happened in I Need A Lover? Backwards guitar and fuzzed out vocals - almost designed to scare away listeners.
Well, it actually begins with Supreme I Preme, (with a bit of a preview in The Way Of The Explosive) which isn't as sunny as the previous seven. It turns into a heavier, less accessible album from there on, which I think dissappointed a bunch of the chart-following crowd (but they're just following the lead anyway, so who cares).

Still, it seems Maverick A Strike keeps on being popular some fifteen years later. And no wonder, as it's one of few albums where it feels like it was just yesterday I heard it, even though I haven't laid ears on it for the past decade and a half.