0196. The Waterboys
Fisherman's Blues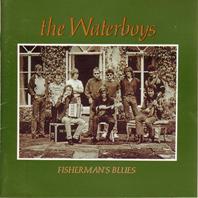 I immediately dislike this and can't figure out why. Cause while it's got a bit of an annoying singer it shouldn't affect the listening that much. The irritation continues as the nest track since while I love the violin just as much as the next guy (in fact, I'm trying to learn how to play it), the mangled version that's on We Will Not Be Lovers is just not okay.

Then, during the fourth track, it hits me: this sounds just like Woodface, but luckily that sensation starts to wane a couple of songs later as they on the B-side increase the amount of Scottish folk in the songs. For some silly reason, the version of the album I listened to didn't have the last track, a cover of Woody Guthrie's This Land Is Your Land, but instead ends with The Stolen Child - a poem by W.B. Yeats that The Waterboys put music to.
A feat they managed pretty well as it's the best song on the album.