0946. Billy Bragg And Wilco
Mermaid Avenue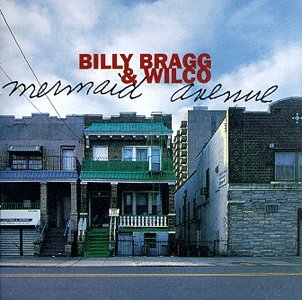 Woody Guthrie hasn't appeared much on the list, which is surprising as he's an inspiration to a whole lot of people who in turn inspired a whole bunch more.

This time it's not him either, but Billy Bragg in cooperation with Wilco doing modern takes on some of Guthrie's previously unheard songs, and from ballads to poetry to the self-deprecating they mostly do a fairly good job of it, but then there's the two songs that stand out:

Wilco's version of California Stars is a country-tinged, sweetly mellow upbeat track that's pure enjoyment to listen to.

Natalie Merchant's voice is absolutely marvellous on Way Over Yonder In The Minor Key, where she unfortunately only sings backup vocals to Bragg's (also good) lead, but the magic somehow disappears on her lead on Birds And Ships - I don't know how, but when she adds the quaver to the song she doesn't reach the same heights as when she sings more plain.

An album that brought Woody to new generations should of course be included on a must hear list.