0054. Bob Dylan
Highway 61 Revisited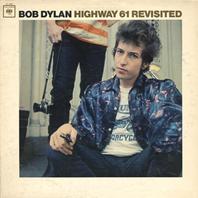 With Highway 61 Revisited this is also Bob Dylan revisited on this list. Heavily infused with blues it's an album that's got a good groove to it and containing one of Dylan's most well-known songs, Like A Rolling Stone, this is a must-hear album from track one (you just can't say you're interested in popular music history if you haven't at least listened to it once, I guess).

Maybe I'm going against the grain for not claiming this to be the apex of all music, but there's only a couple songs I'd say are really magnificient (the rest are just pretty damn good); Tombstone Blues, the somewhat nonsensical but amazing second track; Ballad Of A Thin Man, which has one of the heaviest piano-riffs ever as well as it's lyrics dissing a Village Voice-reporter who'd embarrassed himself during an interview; and (of course) the title track, Highway 61 Revisited, in which Bob paints a disturbing vision of different episodes all bringing people to the specific highway.

All in all the album might not be as great as some of the later releases, but a definite listen.